⛏️ Minecraft Essentials | Beginners Guide: Learn to Play, Build & Craft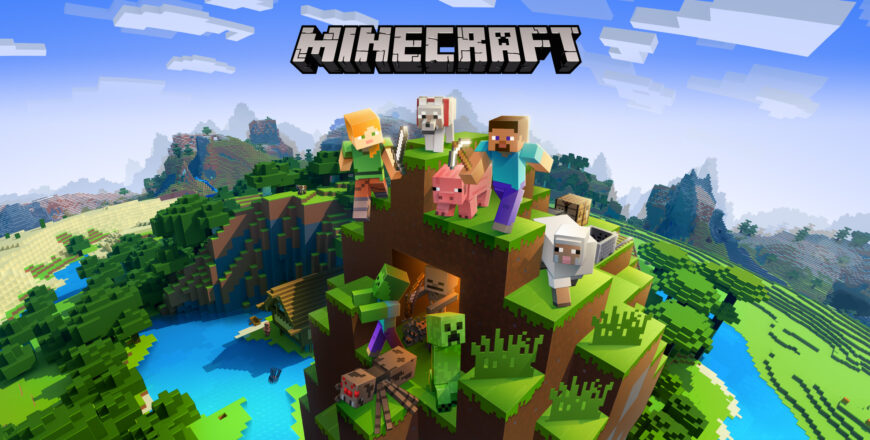 Minecraft is the best-selling video game ever and has been adopted in the best and most advanced schools. In our series of course we will use it to learn the STEM disciplines and beyond. Among the best innovative teaching tools, Minecraft allows you to develop creativity, do experiments for children and simulate a series of real-world activities, in an extremely fun and deep learning way, and perhaps churn out a near-future Architect, Engineer, Scientist, or Programmer.
A wide variety of educational activities involving the game have been developed to teach students various subjects, including history, language arts, and science. With the introduction of Redstone blocks to represent electrical circuits, users have been able to build functional virtual machines.  Microsoft and non-profit Code.org had teamed up to offer Minecraft-based games, puzzles, and tutorials aimed to help teach children how to program.
In this beginner course, you will learn the essentials of Minecraft on the Bedrock edition (Windows 10, iPad/Android, and console), but you can apply most of the content to the JAVA and MEE.
🔤 Text: English + Translation in main languages
🎧 Audio-Video: English
Free live event on 🚀 NAS Edu Network 🎓
Join our free live events and activities with Kids and Educators from all over the world on NasEdu.Net
Introduction
1
👉 SKS Online Course guide, tips, and emojis meaning list
2
🎧 Introduction to Minecraft
3
What is the purpose of the Minecraft game?
4
🔑 Minecraft gameplay and lingo
5
🔑Minecraft game modes Survival and Creative mode, Health and Hunger bar
6
🔑 Other dimensions in Minecraft: The Nether, The End with the Ender Dragon
7
Minecraft Editions: Classic (free online), Bedrock, MEE for Education, Java
8
🔑Minecraft Multiplayer, Servers and Realms
9
How to buy online and how to install Minecraft
10
The future of Minecraft Windows 10 update with NVIDIA RTX graphics
How to Play with Minecraft in Creative Mode
1
Create your first world and play
2
🔴🎧 Game Settings, User Interface, and the HUD
3
Basic Minecraft movements
4
Minecraft Movement Tutorial
5
🔴🎧⚡ Where to find all the Block and how to use the Inventory
6
🔴Breaking, Placing, Sneaking
7
🔴💡🎧 What to build in Minecraft, flat world and building techniques
8
🎧💡 Why we have day and night and how it works in Minecraft
10
🔴 Flying and using Elytra with fireworks
Survival Mode and Weapons
1
🔴🎧💡⚡ Minecraft Survival: Crafting Sustainability and Environment
3
🔴🎧 Mob Creeper Enderman Spider Zombie
4
🔴 Gathering Food and Resources
5
🔴 Exploring and Mining minerals
8
🔴 Repairing Weapons and Armor
10
🔴 Enchanting Tools and Weapons
Farming Hunting and Raising Animals
1
🔴🎧 The Agricultural Revolution and Farming on Minecraft
5
🔴 Raising and Taming Animals
Transportation
4
🔴 Build railways and using cart
Be the first to add a review.
Please,
login
to leave a review