Terraforming Colonizing Mars Base 🥘 problems & solutions, visiting the great Mars#17 in Poland
Terraforming Colonizing Mars: My travel experiences and ideas visiting the Mars Base, like in the movie "The Martian", in the city of Copernicus, Toruń, Poland. The base has some of the possible problems and solutions for water supply, growing food out of the soil, energy, air, dust, gravity. Establishing a Moon Base and a self-sustaining human presence on Mars is key to developing humanity into a multi-planetary species where civilization extends beyond planet Earth. A critical component to enabling humans on Mars to both establish long-term outposts and become self-reliant is the In Situ Resource Utilization (ISRU). https://youtu.be/cW_Fo8l0zFo
Terraforming Colonizing Mars Base 
MARS#17 Base is a new interactive and futuristic space laboratory replica in Toruń. The visitors (crew members) complete the tasks that are required for extraterrestrial survival. Their mission includes not only monitoring the base's condition but also repairing some small defects, analyzing the Martian soil, proper administration of energy. Apart from giving shelter and food, it will be the strategic factor for human survival on Mars.
Terraforming Colonizing Mars Base: My Mission: Living and Working on Mars as an astronaut
I took the role of an astronaut living and working on Mars, performing scientific operations at key locations on the planet. I used two specially designed rovers. One of the missions was to clean the solar panels from Martian durst with a rover, which was hard to do since rovers aren't easy to control.
Terraforming Colonizing Mars The Command Center and Food Supply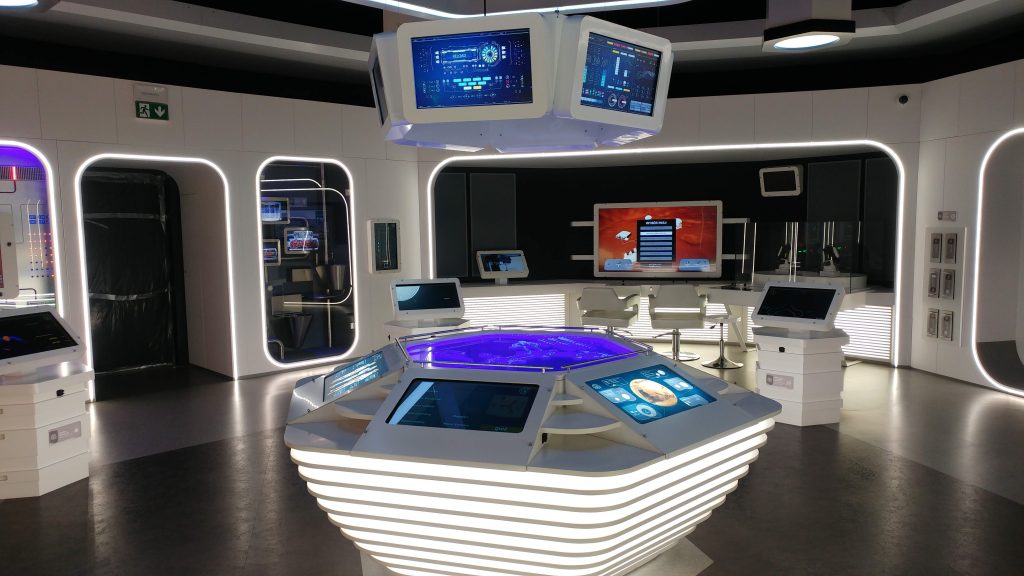 Terraforming Colonizing Mars Base: Water on Mars and the Algae Bioreactor 
On Mars, we have polar ice caps and big valleys. Because there is water there, at first glance it seems to be a place where humans can live easily. However, in reality, Mars is an extremely cold desert where radiation falls. The ground is toxic and humans cannot breathe. The Algae Bioreactor is used for cultivating microalgae or macroalgae using just water, light, carbon dioxide and some minerals. The carbon dioxide is dispersed into the reactor fluid to make it accessible for the algae. The bioreactor is made out of transparent materials. The algae are organisms that perform photosynthesis to produce carbohydrates while releasing oxygen. 
Terraforming Colonizing Mars Base: The Problem with Soil on Mars
The toxic Martian soil isn't good for growing plants, as it is very hard to purify, it is alkaline and it doesn't have enough nitrogen for plants. Most of it contains perchlorates. To grow plants without soil, the best solution is to use hydroponics.
Terraforming Colonizing Mars Base: Energy on Mars
Any activity on Mars, all the electronics, and everything we need require electricity. Well, that's a problem since Mars is farther away from the Sun than Earth is, so it only has access to about 40% of sunlight for solar panels when compared to Earth, and the little sunlight it has is sometimes entirely obscured by dust storms which can cover almost the entire planet. There's wind, but unfortunately, the atmospheric pressure is about 1% of what we have here on Earth, so that is also not an option. Maybe with a vertical wind turbine, we could obtain some energy. From what we know, geothermic power is not possible because Mar's core is not hot enough to heat it. Probably the first small bases are going to run on fission nuclear power, but it looks like there are no nuclear elements on Mars, so they would be carried from Earth. When the technology for fusion will be mature and affordable, it will be a game-changer.
Terraforming Colonizing Mars Base: The Spacesuit for Mars
If something goes wrong outside and it is necessary to go out or maybe you just want to get a nice walk, a great spacesuit is essential. The biggest problem with a spacesuit is that it is hard to make. It not only needs to hold pressure and good temperature levels but it also has to be made in such a way that it doesn't take a lot of dust into your base, since the dust is electrically statically charged and it's very dry and so sticks to everything. It's bad to breathe and it also contains toxic perchlorates.
Terraforming Colonizing Mars Base: Problems with Gravity on Mars
Even if we solve all the previous problems, there's the problem of gravity on Mars, which is only about 38% of Earth's gravity. In the future, we might use artificial gravity. But for now, that's not a viable option, so we probably will make the astronauts exercise a lot, like in the ISS.
This article was published first on Astra News Magazine