🧊Learning app augmented reality VR/AR free. Making paper or giant Merge Cube that students can create at home as a DIY project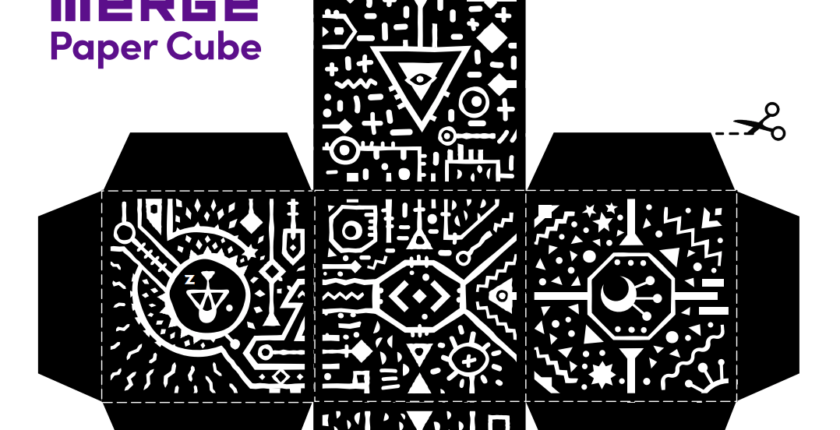 🧊 MERGE Cube is easy and fun to use, is becoming popular with teachers and children all over the world. What is it and how to use it in teaching BYOD. How to use it in the classroom with tablets and Smartboards to help children in their learning process of STEAM disciplines (Science, Technology, Engineering, Art, and Mathematics). How to create a giant DIY Merge Cube or a paper version, use it with CoSpaces and TinkerCad, how to scan real objects with Qlone, and the main AR VR (Augmented / Virtual Reality) apps https://www.smartkids.school/?p=2792 
MERGE Cube, what is it, where to buy it or hot to build it, and how to start? 
MERGE Cube is a holographic cube for augmented reality made of semi-rigid black silver rubber with many symbols on each side. Lightweight and comfortable to hold even for a child, if combined with special apps, it allows you to view and give life to 3D objects in augmented reality using the device's camera and immersing the 3D object in the real environment. Objects can also be created with simple Paint 3D and then shared via a 6-character code.
Rotating the cube with your hand you get the rotation of the 3D object on the screen. It is the first article of its kind and is fundamentally changing the way people interact with technology. Imagine being able to hold a galaxy in the palm of your hand, examine fossils and ancient artifacts like a real archaeologist, watch a volcano erupt in front of your eyes, and play games in ways that weren't possible before. It can be found on Amazon for less than € 30
MERGE Cube here's how to create the paper Merge cube and the giant version
Merge has created a paper Merge Cube that students can create at home! Here's what they'll need:
B+W printer and printer paper/white cardstock
Scissors
Glue stick and/or clear adhesive tape
Making the paper Merge Cube
Using this link: MergeCube.com/paper, print a copy of the Merge Cube.
Cut the Merge Cube out along the solid black outline.
Fold each of the dotted lines and the flaps
Fold the entire cube together to create a cube shape, and attach the flaps
For classroom activities or for home learning it's super fun to have a giant version that you can make together with the kids by following this video:
MERGE Cube Download Educational App Augmented Reality
Register for free on the site https://miniverse.io using the code on the package, but you can also skip this step and go and download the Apps directly on the children's mobile devices, just searching merge cube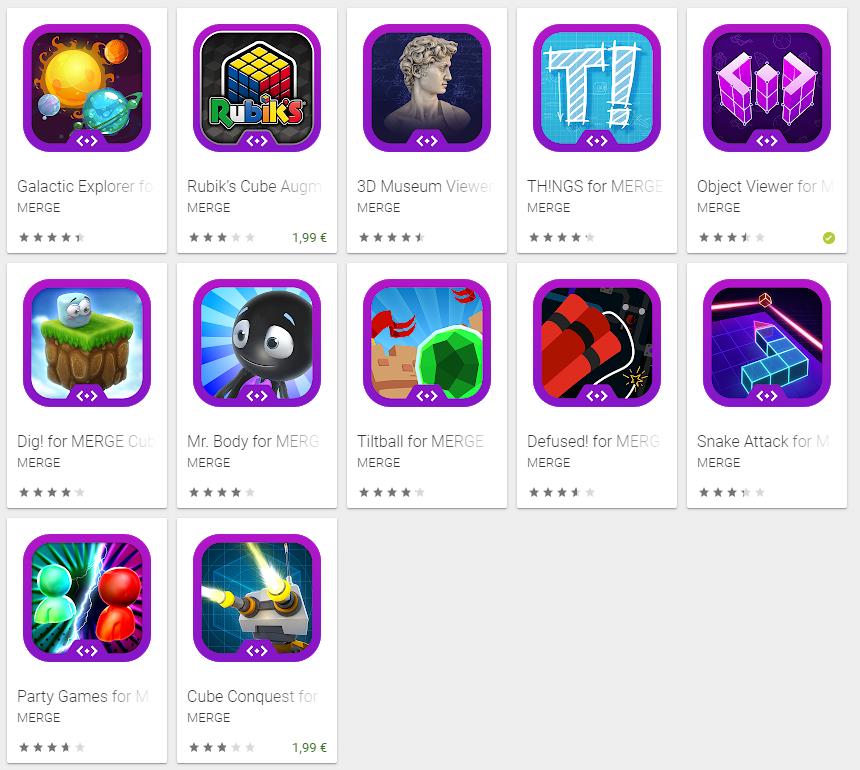 APP Object Viewer for MERGE Cube
Allows you to load, view and share 3D objects on a MERGE Cube Once the app is started, access to the camera and photos must be given. On the main screen, enter the model code of interest. If you already find some examples, but the funniest thing is to upload your own, perhaps created with Paint3D, on  MINIVERSE as explained later. Learn more at www.MergeVR.com/about
APP Galactic Explorer for MERGE Cube 
Imagine being able to hold the solar system in the palm of your hand, watch the planets rotate around the Sun in their orbits, explore the appearance and color of each planet's surface, and discover interesting news. Truly a fantastic educational game for MERGE Cube
APP 3D Museum Viewer for MERGE Cube 
You can see ancient artifacts and famous sculptures from museums right in your home or classroom. You can hold a 3D statue of the Ram of Amun, explore a granite sculpture of Ramses II from every angle, and get a close look at the bust of Marcus Aurelius, all from the palm of your hand. The 3D Museum Viewer also allows you to place each of the life-sized artifacts in the real world, with the ability to physically walk around each statue for 360 °. You can even record videos. 3D Museum Viewer brings you the British Museum and the Louvre Museum. A lot of fun in the classroom, to try now!
APP TH!NGS for MERGE Cube 
Collection of holographic mini-games for all tastes and which allow you to explore the various possibilities of MERGE Cube
APP Mr. Body for MERGE Cube
To do a practical lesson of anatomy in a hologram, just select the parts of Mr. Body and observe each vital organ and its function, such as the heart, lungs, and much more. Did you know that the liver is the largest single organ in your body or that your lungs are filled with 600 million small sacs called alveoli?
MERGE Cube in the classroom and with the Smartboard
MERGE enables active learning by enabling students to learn and create in entirely new ways, providing teachers with simple AR / VR tools that increase student engagement, intellectual curiosity, and academic achievement. Ideal for use with mobile devices for children, perfect for use on the IWB for teachers. Several Apps are available for play, science, art, and various activities, all in an extremely simple and fun way. Here is a video example,  In the video, you will also see a giant version of the cube made from an enlarged scan, printed and stuck on a large cardboard box.
MERGE Cube App Qlone how to 3D scan real object to 3D model
With a little patience, a steady hand and the Qlone App https://www.qlone.pro/ you can do exceptional things, digitizing a real object and transform it into a 3D model. Once you have downloaded the App for your device, simply place the object to be scanned on the appropriate sheet to be printed and follow the instructions.
Here is an example in teaching with a really interesting project
MERGE Cube for children with special needs and non-verbal communication 
MERGE Cube is also successfully used with people with special needs, to help them express, manipulate and interact.
By integrating Immersive Reader, Merge Explorer content becomes more accessible for learners of all abilities.
MERGE Cube with Paint 3D create and publish a 3D model
Once you have created a model you can save it as an image, as a video by choosing the right animation, as a Paint 3D project, or export it as a 3D object in GLB, 3MF, and FBX formats. Export the file in FBX format for   Merge Cube to "materialize" the model with your tablet, iPad, or smartphone equipped with the Object Viewer application For teachers it is a very powerful tool, for example projecting on the IWB. To upload the model in FBX format, a first free registration on https://miniverse.io/  Once registered, it will be possible to upload your own 3D models (preferably no larger than 15mb) from https://miniverse.io/objects and obtain a 6-character code to be entered in the viewing App on the mobile device. Try for example 1YQ LGK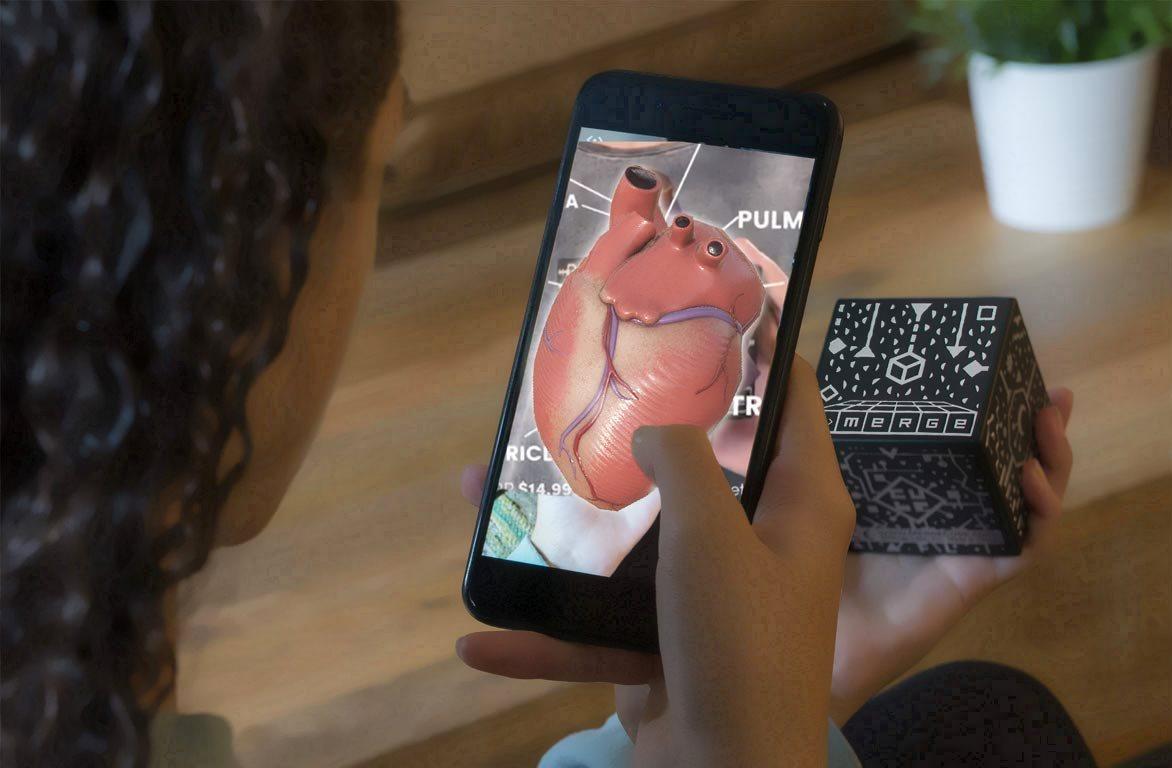 MERGE Cube, 3D Printing and Tinkercad
You can 3D print using Paint 3D and picking objects from Remix 3D as we recommend in our Paint articles. It is possible to view Tinkercad designs on MERGE Cube to literally see and hold in the palm of your hand. Open the Tinkercad drawing, click "Send to", then select "Object Viewer for MERGE Cube".
MERGE Cube e CoSpaces Edu add-on
CoSpaces Edu users can create AR content for MERGE Cube, here more information https://cospaces.io/edu/key-features.html This topic deserves an article of its own.