⏳ DIY Time capsule ideas for kids 2020-2040
20/10/2020

Posted by:

SmartKids School

Category:

Ideas for Kids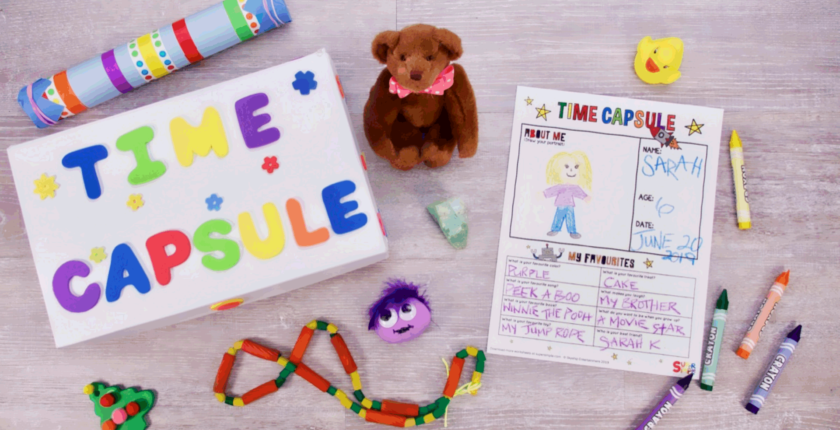 Time Capsule for Kids: The Year 2020 is very special and challenging, that changed our lives and a period in our lives that we will all remember, for better or worse. Our kids will likely not remember every detail of this pandemic and how all changed in their life, but the stories from it will surely be passed down to the next generation. We love the idea of capturing their feelings and documenting this unique time in their lives, with a Time Capsule. 
A time capsule is a container that holds present-day items, such as photos, newspapers, letters, and more. It's typically hidden away for your future self, or someone of your choosing, to open. This is perfect as a gift to yourself, or a gift for your child, for future years. Have another family member hide the box, so you aren't tempted to open it! Want to hide it for a year? Five? Ten? There's no time limit! The rules are all up to you. Shoeboxes are great for indoor safekeeping, while weather-resistant boxes are best for the outdoors.
Not just a quarantine time capsule, but even something special of people changed their life somehow, best friend, relative, and kept safe this memory for 10-20 years. It is better to use analog content (paper, printed photos, objects), as in a few years all the digital content we use today will be unreadable; but you could also try to put some pictures or video clips on a USB stick or CD-ROM (which can be read for approximately 5-10 years) 
Not only is a time capsule great to remember the past, but it's also a fun project for kids! Help them store their memories for years to come.
Time capsule ideas
A meaningful time capsule should be both personalized and fun! If the time capsule is to celebrate a birthday, include items from your child's birthday like photos and cards. You could also include a notebook with thoughts over the year or information about your child's height and weight to compare later. If your child is older, you can place graduation diplomas or certificates from sporting events in the capsule. The options are endless! Here are a few more ideas on items you can include in your time capsule. These can be written from you or a loved one that you can stick in the time capsule, or have your child write a note to themselves to reflect on later.
Some ideas for the time capsule:
Favorite little toy
All About Me, what I love, how I play, my favorite music, games, video
The fingerprint or full-size shape of my hand or feet,  made with colors 
How I'm Feeling
Their favorite fashion trends from a magazine
A newspaper published on their birthday
A paper plane
Certificates/ribbons from sports games
School papers/art projects
"How tall I am" with a ribbon that measures the height
Photos from the past year/years
A book with a special note
A face mask and a newspaper
Family Portrait
My Community
What I'm Doing at Home
Family Handprints
How We're Celebrating Special Occasions
Letter to Myself
Interview for the Parents
Letter from the Parents or special friends to an older and wiser you
📷 time capsule shared photos and video album
If you like you can add some pictures of your time capsule and content in this public shared album. For your privacy remove the GPS position from the pictures and don't add pictures of kids. Consider it precautionary.
https://photos.app.goo.gl/xenHENXu7QsQNqiF7
By adding content to the album you give us the authorization to use it on our website as well. 
How to build the time capsule and where save it
In order to make your time capsule, firstly you'll have to choose a container in which to store it. Choosing your container depends on how long you are planning on keeping it hidden. This is a great opportunity for your little ones to get involved. Have them pick out the box or help them decorate the box before it's filled. Save it in a place where it can stay safe for 10-20 years! Bury it in your garden, or hide it in the space inside a wall.
For indoor storage, a shoebox, wooden box, large plastic storage container, or even a mason jar will work. If you want to create a DIY container, consider using a cookie tin or egg carton for your time capsule. You might want to gather all of your time capsule items together first to determine the amount of storage space you'll need. You can hide your box in a storage closet behind other items. An attic, basement, or garage are also great locations. You'll want to hide your time capsule somewhere where others will not find it!
For outdoor safekeeping, consider a weatherproof, non-biodegradable container such as a soda bottle, old metal coffee can, popcorn can, or a box made of stainless steel. Make sure this is secured before hiding or storing your box outside. Bury your time capsule in a garden under dirt where little to no rain hits, or in an outdoor garage. You could also ask a friend or family member to hold on to the container, just don't tell your little one who has it!
👉 If you change house, don't forget your time capsule!!!
When will open the time capsule
Open it on a very special day, when your child will be old enough to appreciate the effort that has gone into preparing it as well as the intrinsic value of its contents.  Why not save one for your kids and show them how your life was at their age.